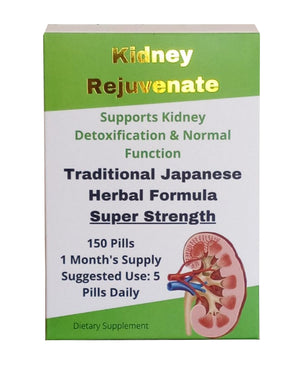 KIDNEY REJUVENATE: TWO-WEEK KIDNEY REJUVENATION HERBAL FORMULA, POTENT KIDNEY SUPPLEMENT WITH TRADITIONAL JAPANESE HERBS, 70 PILLS
Five traditional Japanese herbs have amazing health advantages: This Kampo-treatment method has inflammatory qualities that can relieve muscle cramps, enhance urine, and guard against kidney damage.
Stop stone formation: Takusha, a well-known Japanese herb, is integral to our formula since it stops stone formation from happening again.
Directions For Use: It is advised to use the Kidney Rejuvenation Herbal Formula
for a month to get the best benefits.
For the Two Week Plan Take 5 tablets each day.
Currently, chronic kidney disease affects 10% of the global population. Not surprisingly, these figures are increasing for adults, as more and more people are treated with diabetes and blood sugar medications which strain the kidneys. Our exclusive conventional and traditional Japanese five-herb mixture can effectively treat numerous kidney-related conditions, including chronic kidney disease, to keep your body healthy.
What makes our kidney rejuvenate formula special?
Our product is created specifically to maintain the health of your liver and kidneys. It is formed using cutting-edge procedures that draw inspiration from Kampo medicine.
 It includes the top five Japanese herbs for kidney and liver health, which have been utilized for centuries. Each herb is specifically picked to treat a certain condition and works actively as a kidney functions supplement to prevent the body from developing a chronic disease.
What are those five herbs used for, and how well do they work?
Keihi and Kanzo have comparable qualities. Because they both possess anti-inflammatory characteristics, it shields the kidneys from any infections and treats kidney failure.
A well-known Japanese herb called Chorei is used largely to cure and prevent kidney stone development. Terpenes, provitamin D, and beta-glucans are necessary for normal kidney function.
Bukuryo herbal component is part of our special kidney rejuvenation herbal formula, which works in conjunction with other helpful chemical compounds to enhance kidney functions. Glomerulonephritis is treated with it, and it controls edema. 
Takusha is a well-known herb that is typically used to stop the production of CaOx kidney stones or their recurrence in the future. It keeps the PH of the urine stable, preventing crystal formation