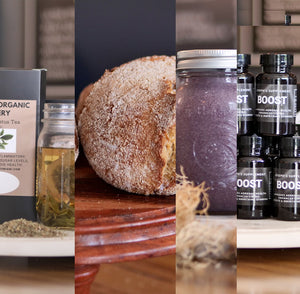 Ultimate 30 Day Diabetes Diet Plan - Ultimate Super Pack
Our blood sugar support program incorporates our special bread, teas and unique herbal supplements.  This Program is a 1 month Ultimate Plan.  
Food is Medicine.  The safest way to balance blood sugar is to eliminate toxic foods that produce high blood sugar levels and inflammation and to replace them with healthy superfoods that nourish and alkalize the blood.
At Joseph's Organic Bakery we bake bread like in ancient times. Our Kamut bread is a SUPERFOOD. We stone grind our grain, then we start the fermentation process. Our breads ferment for 8-48 hours. This ensures the HIGHEST NUTRIENT RATIO Possible.  Our bread is high in fiber as well.  We focus on making every bite count.  Our special bread is a superfood made with Wholegrain Kamut that we stone grind every day. Kamut is Non-GMO ancient grain. It's the third oldest grain in the world.
Our cistus tea and high quality green tea work together to cleanse and rejuvenate the digestive system and pancreas.  They are nature's healing herbs that G-d put on the earth.
OUR SPECIAL KAMUT BREAD
ADDITIONALLY STUDIES HAVE SHOWN THAT KAMUT LOWERS BLOOD SUGAR AND AIDS WEIGHT LOSS.  OUR SOURDOUGH IS UNLIKE ANY OTHER. WE DO NOT ADD ANY WHITE OR REFINED FLOUR TO OUR BREAD & BAKED GOODS. WE USE 100% ORGANIC WHOLEGRAIN KAMUT.  OUR BREAD HELPS MAINTAIN STEADY BLOOD SUGAR LEVELS WHICH ALSO AIDS WEIGHT LOSS. MANY OF OUR CLIENTS HAVE LOST WEIGHT SAFELY AND EFFECTIVELY.
 Our special herbal teas help replenish the pancreas and digestive system.  The Cistus tea is also an anti-inflammatory. The Sea Moss is a Superfood from the Sea that helps to replenish vitamins and minerals.  And Our Boost Herbal Supplement helps to nourish the adrenal glands to prevent the fatigue and energy dips associated with high blood sugar. 
Additionally studies have shown that KAMUT lowers blood sugar and aids weight loss.  Our sourdough is unlike any other. We do not add any white or refined flour to our bread & baked goods. We use 100% ORGANIC wholegrain kamut.  OUR BREAD HELPS MAINTAIN STEADY BLOOD SUGAR LEVELS WHICH ALSO AIDS WEIGHT LOSS. Many of our clients have lost weight safely and effectively.
Our 1 MONTH Program INCLUDES:
10 loaves of Kamut bread - $15 each  $150 total  The loaves are shipped 2X per month (5 each time)
1 Longjing Tea -absolute highest quality $45 (taken together with cistus tea)
1 Cistus Tea  (replenishes the pancreas & boosts energy)  $45
1 Boost Herbal Supplement (to combat fatigue & lower inflammation) $65
1 Immune Pro Supplement (cleanses blood)  $65
1 Red Sea Moss (rich in 94 vitamins and minerals) $50
$30 Shipping Included in Price
Please contact us for more info & for Program instructions at 954-541-4062