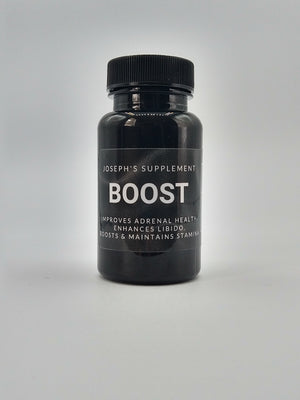 BOOST - Libido Herbal Supplement
Do you have low libido?  Are you tired and all the time?  Are you easily stressed or lead a stressful lifestyle?
You may have adrenal fatigue.  
ADRENAL FATIGUE is the major culprit behind low energy and low libido. Adrenal fatigue affects millions of Americans, yet the majority of people with adrenal fatigue, don't even know they have it. 

The adrenal glands are located at the top of each kidney and are responsible for a lot more than many would imagine. There are two main parts of the adrenal gland: the medulla (inner portion) and the cortex (outer portion). The cortex produces steroids, or stress hormones, which promote fluid balance and regulate blood sugars.

Unbeknownst to many, testosterone is produced in the adrenal glands, not just in the testes. And for women, about 20% of all female hormones are produced in the adrenal glands.

The adrenal glands are also responsible for producing cortisol.

Cortisol is a steroid hormone which is released into the body in response to stress. Long periods of high stress will potentially release high levels of cortisol. And when a person has abnormally high or fluctuating levels of cortisol, it can cause other hormones to stop being produced due to the body's overproduction of cortisol.
Over time, these elevated cortisol levels will cause adrenal fatigue.

Adrenal fatigue in men is quite distinct in that abnormal cortisol levels will cause testosterone levels to drop more than any other hormone.

Important Note: Many factors can produce bodily stress: including bad diet, medications, and excess weight.

Ultimately, adrenal fatigue leads to the body not being able to produce enough cortisol, and the resulting low cortisol levels contribute to a decreased libido.

Our Boost Herbal Supplement aims to naturally boost energy levels and libido and performance with special herbs designed to rejuvenate the adrenal glands.
HOW DOES THE BOOST BENEFIT OVERALL HEALTH?
When the adrenal glands malfunction, producing excess or too little cortisol, tremendous strain is placed on the pancreas, which causes insulin resistance and type 2 Diabetes.

The hormone aldosterone, which is also produced in the adrenal glands, is responsible for maintaining stable blood pressure levels.

Therefore, when the adrenal glands are fatigued and stop releasing aldosterone, high blood pressure results.

Boost is an herbal formula designed to rejuvenate the adrenal glands and to boost energy levels and libido naturally.

Our Boost formula includes herbs like Sarsparilla & Muira Puama which together reverses adrenal fatigue, thereby stabilizing blood sugar and blood pressure levels.
Boost Herbal Caps Benefits:
Boosts Libido*
Supports the adrenal glands*
Helps to maintain stamina* 
BOOSTS athletic performance and fuels muscle growth*
Boost Supplement can be taken long term.
It helps to improve adrenals, hormones, and energy and stamina.  
14 Day Supply
Ingredients Include: Sarsparilla, Muira Puama and more