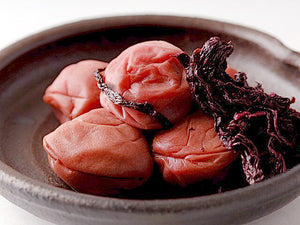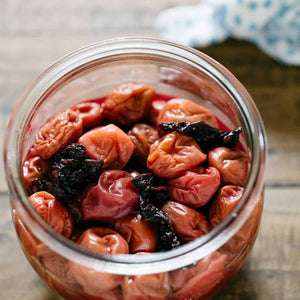 Umeboshi Pickled Plums - Alkaline Superfood for Improved Digestion
Umeboshi plums have been used for over a thousand years in Asia, specifically Japan, China, and Korea.  Valued for their nutritional benefits, Asian cultures use this fruit as a digestive aid, to fight fatigue, and as an anti-bacterial and anti-parasitic and as a liver aid.   
OUR SMALL UMEBOSHI PLUMS ARE NOT AVAILABLE ANYWHERE ELSE IN THE UNITED STATES. THE SMALL SIZED PLUMS ARE RENOWNED IN ASIA FOR THEIR HIGH QUALITY, FLAVOR AND NUTRITIONAL VALUE.  
How is pickled Umeboshi plum made?
The little plums are fermented with sea salt and shiso leaves, sometimes for many years.  The result is an incredibly alkaline, probiotic rich, pickled fruit with a host of health benefits.  The shiso leaves have many medicinal health benefits themselves, and they contribute to the antimicrobial and infection-fighting components of the umeboshi plums.
Unfortunately many companies use artificial dyes and preservatives to keep costs down.
Plus they are usually shipped overseas in plastic container, completely destroying their probiotics and overall nutritional benefits.  
Why Our Plums are Unique
At Joseph's Organic Bakery, our umeboshi plums are pickled for many years, on a small family owned farm in Japan. This family has been making umeboshi the traditional way for many decades.  The ume plums are fermented for years using only 3 ingredients: Ume plums, sea salt, and shiso leaves.  Then they are bottled in glass and shipped BY AIR overseas to prevent overheating. 
WE CHOOSE ONLY THE SMALL PLUM VARIETY WHICH ARE KNOWN TO BE THE HIGHEST QUALITY PLUMS.  THESE PLUMS ARE NOT AVAILABLE ANYWHERE ELSE IN THE UNITED STATES.
Umeboshi plums health benefits:
Supports Healthy Digestion
Restores & Rejuvenates the Gut
Anti-bacterial
Anti-parasitic
Liver Support
Stops Diarrhea and prevents nausea
Rich in Antioxidants
Bone Support
Blood Sugar Stabilizer
Studies show that it can reduce liver damage, support digestion and regularity and even block the growth of cancer cells. 
Some research has found that including umeboshi in your diet could help preserve the function of the liver. A 2012 study in the World Journal of Gastroenterology followed 58 patients with liver disease and found that supplementing with ume fruit extract actually decreased liver damage. 
Umeboshi plums can benefit bone health thanks to their high amount of polyphenols. he polyphenols in ume fruit were able to increase the production of collagen the protein that forms the structure of bones.
Umeboshi plums are one of the great health-promoting Antioxidants. A 2014 study demonstrated that the antioxidants found in ume fruit are especially effective when it comes to reducing and stabilizing free radicals.
Studies show that antioxidants can reduce the risk of many health problems, including heart disease, cancer and diabetes. 
Umeboshi plums are very high in iron (important for hemoglobin production, stress reduction, and immune function), thiamin (important for a healthy nervous system, metabolism, and digestion), and riboflavin (formation of antibodies, healthy metabolism, and cortisol production).
How to Consume Umeboshi
Umeboshi is a very tasty condiment. The salty and sour properties of umeboshi plums make them an excellent accompaniment to any dish.  Just remove the pit and cut up the fruit into little pieces, adding them to salads, on bread or in any rice dish. 
They can also be used in place of salt when cooking, or to just add a nice flavor when preparing any grains or vegetables.  Eating one on its own first thing in the morning with breakfast stimulates digestion for the day. 
Included: 8 oz jar of Umeboshi Plums
Instructions: Just remove the pit and cut up the fruit into little pieces, adding them to salads, on bread or in any rice dish.  Consume up to 4 plums per day.