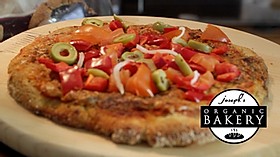 Alkaline Kamut Pizza - Dr Sebi Vegan Pizza
The best alkaline pizza in the world!   Fits the Dr Sebi Alakline Diet. Made with Wholegrain Ancient Grain Kamut flour. 
So what our Pizza Alkaline?
Our New & Improved Dr Sebi Alkaline Pizza is made with our signature kamut flour, fresh alkaline ionized water and alkaline bamboo salt. The alkaline water we use is high in antioxidants and has a high ORP effect. The alkaline salt is high in minerals & sulfur.  The sulfur in the salt has a strong anti-oxidant effect as well. 
Organic, Vegan, Classic Kamut PIZZA topped with Homemade Vegan Cheese & Tasty Homemade Italian Tomato Sauce.  The pizza is made with wholegrain kamut flour. Dr Sebi Friendly. 
Size: Individual Size Pizza (can be shared by 2 people)
Q: Will this pizza be ok to ship?
A: Yes we ship this pizza with ice packs to keep it cool. Just warm it up if you want to eat it the same day or freeze if you want to save it for a later date. It will last in the freezer for 4 months.