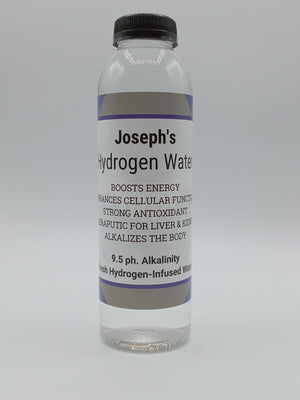 Alkaline Ionized Water - Pack of 12
What if a single natural way of minimizing pain and inflammation existed? To enhance your energy, cognitive function, and immunity? To get rid of harmful free radicals and encourage your body to make enzymes and antioxidants? 
Scientists have found that all of these properties and more are in H2 vapor, molecular hydrogen, or diatomic hydrogen water. H2 has become a major scientific research area.
Oxidative stress lead to the development of inflammatory diseases.  Ionized water combats this process, neutralizing free radicals, and protecting against disease.
Our alkaline water is high in antioxidants and hydrogen. It has high ORP potential.
Ionized water is rich in antioxidants. Water ionizers pump  molecular hydrogen (extra H2 molecules) into the water.  H2 is the most powerful and safe way to help the body fight free-radicals.
Other ways of making alkaline water don't have molecular hydrogen antioxidants. That water would be oxidizing. Which is many many alkaline water brands could actually damage one's health. 
Our alkaline water is the highest quality alkaline water out there. 
Antioxidants and ORP
Oxidation: Oxidation is what happens when a peeled apple turns brown or to iron when it rusts. ORP means "oxidation reduction potential", which can be measured with a meter. 
Oxidation is a chemical reaction. Oxidation is a natural process that happens inside our bodies. Free-radicals circulate the body, stealing electrons & damaging the cells. If the body doesn't have enough antioxdants to balance out this process, oxidation will lead to disease. A free radical is an unbalanced molecule.  It needs another electron to be stable and steals it from your cells. Ionized water produces millions of extra electrons, and so it is able to neutralize free-radicals and repair cell damage.
What is ORP? ORP refers to the negative charge that ionized water has. It has a high Oxidation Reduction Potential. Another benefit of having a negative charge is that the minerals in ionized water are more bio-available. 
BENEFITS OF OUR ALKALINE IONIZED WATER
*Helps Restore an Alkaline Environment to the Body*
*Strong Anti-oxidant Effect*
*Made Fresh before shipping- so unlike other alkaline water on supermarket shelves- that have little to no benefits left
*Good Quality Water Ionizers cost thousands of Dollars- The cheap machines are actually harmful to health. Our alkaline water offers you the benefits without the high cost!
 Instructions for Use: Drink 1 bottle per day minimum. Max: 3 bottles per day