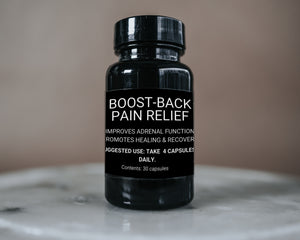 BACK PAIN RELIEF - Relieves Chronic Pain & Reduces Inflammation
A potent herbal formula that relieves chronic and severe back pain, achy joints and muscles.  This special formula doesn't just alleviate or numb back pain, it actually helps the body heal and rejuvenate muscle tissue and damaged nerves.
We specially designed this formula to combat chronic back pain and muscle pain naturally.
BENEFITS OF OUR BACK PAIN RELIEF:
Relieves Back Pain*

Promotes Healing & Recovery*

Improves Adrenal Fatigue*
How This Formula Works:
Have you ever wondered why only as we age we start suffering from chronic pain? Generally, young people don't suffer from chronic pain.
As we age, our hormonal/adrenal system starts to wear down or get fatigued. Our adrenal glands produce over 35 hormones some of which are responsible for healing. 
If we strengthen our adrenal function our injuries will start to heal and chronic pain will begin to subside.  As the adrenal glands recover, our strength returns, we become more youthful, higher energy levels, and better recovery after exercise.
The herbs in this formula repair the adrenal glands which trigger overall anti-aging, healing of injuries and muscle tissue.