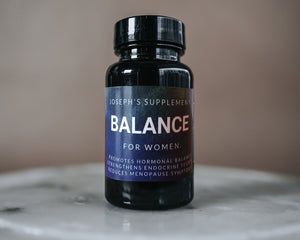 Balance for Women - All Natural Hormone Support - Eases PMS
A mix of alkaline herbs, our BALANCE supplement is for women who desire to balance their hormones naturally. The herbs in this formula relieve menopausal symptoms, PMS, and ease menstrual pain. They also help relieve infertility issues. 
Balance also supports the thyroid.  Thyroid problems can cause fatigue, muscles aches and weakness, weight gain, depression, irregular menstrual cycles, thinning hair, mental fog, always feeling cold or hot, and swelling in the extremities. 
The herbs in this formula help to repair the thyroid gland.  Thus relieving symptoms of an imbalanced thyroid.
BENEFITS OF BALANCE:
Supports female reproductive health*

Helps resolve Infertility Issues*

Supports hormonal balance *

Supports the thyroid*

Relieves Menopausal Symptoms*

Eases PMS and Menstrual Pain*

Supports Female Libido
Made with Natural Herbs Nothing Else!
30 pills
Ingredients: Hydrangea's, Damiana, Sarsaparilla, Irish Sea Moss, Muicle, Red Clover 
Instructions: 2 pills per day