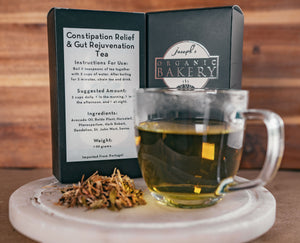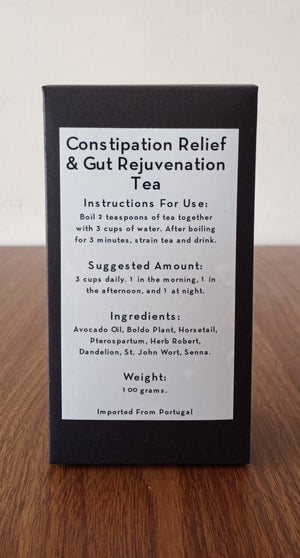 Constipation Relief Tea - Overall Gut Rejuvenation
Gut Rejuvenation Tea for Constipation, Bloating & Overall Digestive Troubles
If you would like to rejuvenate, cleanse, and reset your gut then this is the tea for you.
This special tea aims to reset your gut and digestion to make you feel clean, fresh, and ready to move forward on your health journey.  
The intestine is the most highly regenerative organ in the human body. The gut lining regenerates every five to seven days. 
The gut can heal quickly, as long as we nourish it with proper food and herbs, and avoid toxic food.

Replenish your gut microbiome today!
BENEFITS OF OUR GUT REJUVENATION TEA:
Alleviates Constipation*

Rejuvenates the Gut & Intestines

Supports Healthy Digestion*

Reduces Bloating After Meals*

Each Box lasts between 3 week to 1 month. 

8 special herbs formulated by experienced herbalists.

Includes roots leaves and bark
Ingredients: 8 High Quality Herbs: boldo, st john's wort, herb roburt, horsetail, dandelion, pterospartum, avocado oil, senna. Nothing else!
Instructions: Boil tea leaves in water. Strain and enjoy. 3 cups of tea per day.                         
*These statements have not been evaluated by the Food and Drug Administration. This product is not intended to diagnose, treat, cure or prevent any disease.