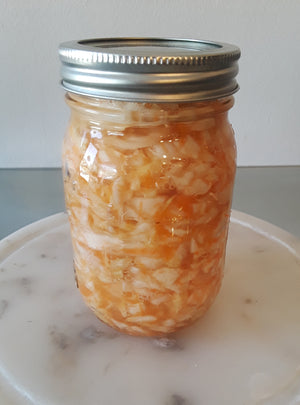 Homemade Raw Sauerkraut- Rich in Probiotics
Homemade Sauerkraut is a healthy Probiotic powerhouse, which aids digestion and nutrient absorption and restores healthy gut bacteria. 
Most store bought sauerkraut is heated & pasteurized to make it shelf-stable. However, the pasteurization process destroys the active & live enzymes and bacterial cultures that are beneficial for the digestive process and immune system.  Even many "raw" sauerkrauts are made using whey starters to save time.  
At Joseph's Organic Bakery , we never heat or pasteurize the final product.  We use the ancient traditional method of making sauerkraut, just sea salt, cabbage, carrots, bay leaf and peppercorn fermented to ensure a product that is rich in beneficial enzymes, probiotics, and vitamin C.  We make our sauerkraut by hand in small batches.   
Our Sauerkraut:
Vegan Organic Kosher

Made by hand in small batches

No Heat Processing Completely Raw & Alive

No preservatives and no Vinegar

Tastes Crispy, tangy & fresh!


Sauerkraut Health Benefits:
Rich in Healthy Probiotics

Aids Digestion

Helps Restore Healthy Gut Bacteria

Supports the immune system

Great source of Vitamin C
If it's on a shelf or in a can -don't buy it- the probiotics & enzymes in the sauerkraut are dead! A shelf-stable sauerkraut might be easier to sell,  but it does do much for your health.  The Healthiest Sauerkraut Must be refrigerated or kept in a cellar, it contains live bacteria and will spoil if not kept correctly.
At Joseph's Organic Bakery, Our sauerkraut contain live good bacterial cultures. Keep refrigerated for 2 months. Once opened consume within 2 weeks.
(Don't discard the sauerkraut water - it tastes great added to soups & dressings)
​​
Ingredients: organic cabbage, carrots, bay leaf, black peppercorns, and alkaline bamboo salt
Instructions: Refrigerate upon receiving. Can last in the fridge unopened for 2 months. Consume within 2 weeks after opening.
To order our sauerkraut by phone please call 954-541-4062