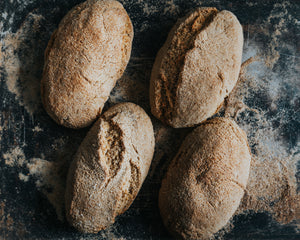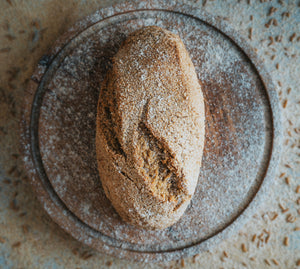 Organic Kamut Sourdough Bread made with wholegrain kamut flour. This bread is a Superfood.
We take pride in our unique preparation method, which enhances the vitamin and mineral content of each loaf, while preserving the essence and nourishing properties of our ancient grain flours.  
Our preparation method ensures that every loaf we bake contains optimal nutrients, enzymes, and fiber. Our fermentation process supports probiotic growth, contributing to gut repair.
We bake like a thousand years ago. Rooted in ancient tradition, we keep the ingredients simple: using only natural components: kamut flour, water, sea salt.
Discover the epitome of nourishment and authenticity with every slice of this exceptional bread.
Kamut is the second oldest grain in the world. It is low in gluten & non GMO. In fact, Kamut is an anti-inflammatory grain, this bread is our most hyper-allergenic bread, suitable for sensitive individuals.
Vegan. Sugar Free. Unbleached, Unbromated flour. We never use white flour!
Low in Gluten 
Wholegrain
Ancient grain
Vegan
Sugar-Free
Freshly Milled
Benefits of Our Bread:
Aids Digestion*

Best Source of Fiber, Real Wheat Germ, Vitamins and Enzymes*

Helps Support Healthy Weight*

Rich in Probiotics*

Reduces Bloat*

Great for Sensitive Stomachs*
*These statements have not been evaluated by the FDA.