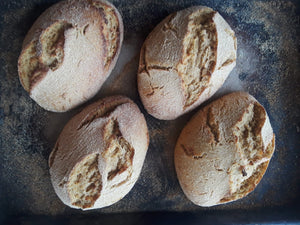 Alkaline Kamut Sourdough Bread - Pack of 4
Organic Kamut Sourdough Bread made with fresh stone ground kamut flour. PACK OF 4 with discounted shipping. Low in Gluten. Vegan. Sugar Free. Unbleached, Unbromated flour. We only use wholegrain flour! 
Kamut is the second oldest grain in the world. It is low in gluten & non GMO. Our Organic Sourdough Bread is made with stone ground Kamut flour that we stone grind fresh daily for optimal nutritional content.                                                   
Why Our Bread Is Unique:                
Ancient Kamut grain
Fresh Stoneground
Vegan
Sugar-Free
Wholegrain
BENEFITS OF OUR BREAD:
Great for Digestion

May Balance Blood Sugar*

Best Source of Fiber, Real Wheat Germ,  Vitamins and Enzymes*

Helps Support Healthy Weight*
FAQ: 
HOW DO I STORE THE BREAD?
Once you receive the bread, set aside the bread that you want to eat now.  The bread will remain fresh for 2 days. You can store it in the fridge and toast it in the toaster oven for optimal taste.
Whatever you don't want to eat within the next day or two, you should SLICE AND FREEZE.
HOW LONG WILL THE BREAD LAST IN THE FREEZER?
The bread will last in the freezer for 4-6 Months
WHAT IS THE EASIEST WAY TO REHEAT THE BREAD AFTER ITS BEEN FROZEN?
In the toaster oven. Do not microwave the bread as it might affect the nutrient content.
*These statements have not been evaluated by the FDA.