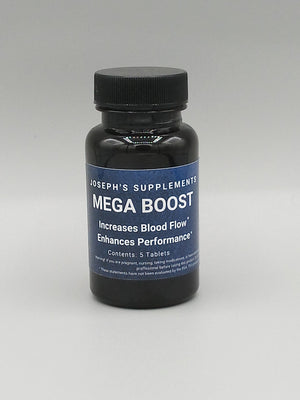 Mega Boost for Men - All Natural Libido
Is your bedroom performance falling short? Do you want to have the vitality and strength you had in your youth? Are you worried about scary side effects associated with medical pills and hormone replacement therapy for men's libido?
Our Boost Max is made with natural but potent ingredients, including herbs to enhance blood flow.  
Our Boost Max is the ultimate libido boost for men. It increases blood flow to the extremities. Take 1 pill per day in the afternoon to enhance performance in the bedroom.
MEGA BOOST LIBIDO INCLUDES:
1 BOOST MAX  (5 pills)  $35
MEGA BOOST Natural Caps Benefits:
Boosts Libido
Enhances Bedroom Performance
Boosts Blood flow to the Extremities
Natural Ingredients
1 pill per day when needed
Ingredients: Epimedium extract, Arginine, DHEA,  Microlizedpregnenolone
Instructions for use:   Boost Max is intended to be taken in the afternoon as needed for bedroom performance. Do Not exceed 1 pill per day. 
Ingredients Include: Sarsparilla, Muira Puama and more