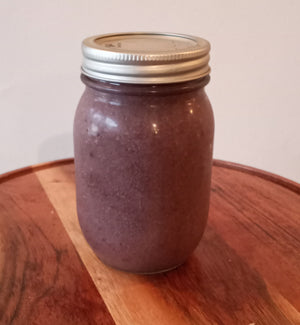 Organic Non-GMO Purple Sea Moss Gel - Made from Wildcrafted Sea Moss 16 oz
WILDCRAFTED NON-GMO SEA MOSS GEL FROM OFF THE COAST OF JAMAICA
Supercharges the Immune System*

Promotes Healthy Digestion* 

Increases Energy & Metabolism*

Mineral Rich*
MADE FROM WILDCRAFTED SEA MOSS 16 OZ
Sea Moss contains 92 out of 102 vital minerals, vitamins and compounds that your body needs.
Such as Iron, Magnesium, Calcium, Phosphorus, Potassium, Zinc and many more.
Iron plays an important role in immune function
Magnesium helps with muscle and nerve function, blood sugar levels, and blood pressure and making protein, bone, and DNA
Calcium and phosphorus helps build stronger bones
Potassium is necessary for the normal functioning of all cells. It regulates the heartbeat, ensures proper function of the muscles and nerves
Zinc helps the immune system fight off invading bacteria and viruses
Our Purple Sea Moss is wildcrafted from the pristine oceans of Jamaica.  We source the absolute highest quality sea moss possible.  OUR LOCAL JAMIACAN DIVERS
 HARVEST RESPONSIBLY TO PRESERVE THE ECOSYSTEM.

 Our sea moss is All-Natural, Non-GMO, & never farmed.  It is sun-dried - never bleached!
We make our Sea moss gel in small batches daily to ensure freshness.  We soak the Sea Moss in pure spring water for 24 hours for optimum nutrient bio-availability. Works together with a Dr Sebi alkaline diet.
Add 1-2 tablespoons to your daily smoothie.  Or blend with any drink.  Our Sea Moss gel combined with our Stone Ground Kamut Bread will help alkalize and mineralize the body while leaving you full and satisfied.
When you order our sea moss gel rest assured that is was made fresh for you in Miami! We rinse and soak our sea moss in spring water, no tap water.  No fishy sea flavor.  Only 2 Ingredients: Sea moss & spring water. 
NATIONWIDE SHIPPING: Shipped with ice packs. Refrigerate upon receiving. Will last in the fridge for 3 weeks.