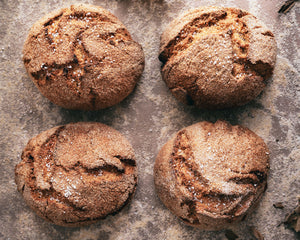 Our Organic Spelt Sourdough Bread is made with 100% wholegrain spelt flour that we grind and ferment daily.  This spelt bread is truly a Superfood.  
Our unique preparation process ensures that our bread is full of vitamins, minerals, probiotics, enzymes and fiber.
Why is Special about This Bread?
1) Made with Spelt. Spelt has a unique nutritional profile. Spelt is an ancient grain, unlike modern wheat which has been hybridized and genetically modified.
2) Sourdough fermentation to support probiotic growth which helps repair the gut.
3) Made with 100% Wholegrain flour- No refined white flour is used.
4
) 
Made with only 3 ingredients: Spelt flour, water, sea salt.
5) We grind our own flour to ensure purity of the flour. No bromides or dough risers are added to our flour, ever!
We bake bread like a thousand years ago! 
Health Benefits of Our Spelt Bread:
Aids Digestion*

Rich in Probiotics and Enzymes*

Helps Support Healthy Blood Sugar Levels*

Promotes Weight Loss*

Best Source of Natural Fiber*

Rich in Vitamins (Vitamin E and B vitamins) and Minerals*

Helps rid the body of toxins and waste in the digestive tract*

Reduces Bloat
Watch our Video Testimonials!