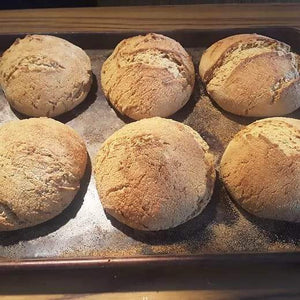 Superfood Kamut Bread - Ancient Grain Miracle Bread - Sourdough - Yeast Free
Do you have a wheat allergy? Do you suffer from inflammation, bloating or difficulty digesting most breads?
Modern Wheat is hybridized to have a high gluten content, causing allergies and inflammation. Ancient grains like Kamut are non-hybridized, making it a healthy alternative to modern wheat. We use Wholegrain Kamut to make our organic Kamut sourdough bread.
Joseph's Organic Bakery has been making bread with ancient grains using the same procedure for years. High levels of natural nutrients like vitamins, minerals, fiber, probiotics, and enzymes are guaranteed in our meticulously made alkaline bread.
In our opinion, medicine should be replaced with food! People with diabetes or high blood pressure and others who are worried about weight loss should focus on proper diet to improve their condition and alkalize their bodies.
Our organic bakery never uses refined or white flour because all of our ingredients have been carefully chosen for quality. We never use synthetic dough risers. Our flour not bleached or bromated. Our focus lies in sharing foods that are organic, Kosher, Pas Yisrael, sugar-free, egg-free, dairy-free, and vegan.
Unlike modern wheat, our Kamut organic sourdough bread is non-hybrid and non-GMO. For 48 hours, we support the probiotic development that aids in gut repair by fermenting the sourdough.
Kamut flour, water, and sea salt are the essential components we utilize to make Ancient grain bread. 
What's the difference between our bread and commercial bread?
Bread without yeast, sourdough starter, xanthan gum, or cellulose is difficult to find. We allowed the yeast in the air to ferment our bread under ideal conditions, so we dont even have to use a sourdough starter.  We bake bread like a thousand years ago. Only 3 ingredients, using a special preparation process, unlike other bakeries.
Joseph's Organic Bakery's motto lies in showcasing the best
Dr. Sebi Alkaline Bread
 with their commitment to 
ancient
superfood bread
, non-GMO ingredients, and sugar-free baked goods.
BENEFITS OF OUR SUPEROOD BREAD:
Great for Digestion
Our organic sourdough bread is fermented for long periods to ensure the probiotic bloom. It has unbleached, unbromated flour, minimal gluten content, and hypoallergenic qualities.
Promotes Healthy Blood Sugar Levels*
Our vegan bread is helpful for diabetics and encourages healthy weight loss as a result of its low glycemic characteristics.
Rich source of nutrients
Our traditional alkaline Kamut bread is a rich source of vitamins, minerals, probiotics, enzymes, and fiber. It is an excellent source of the Vitamin E and B vitamin family, which includes B1, B2, B3, and B6.
Yeast-Free Formula
We use natural fermentation instead of straight yeast or sourdough starter. Here, dough ferments in the optimum environment of natural air without the need for any artificial means.
The bread's high fiber content makes it a great way to balance blood sugar levels and prevent them from rising. It maintains stable and balanced blood sugar levels.
No Added preservatives
Our Ancient Kamut Grain Bread is crafted with organic, natural ingredients and 100% whole grain Kamut flour. There are no additional flavors, colors, or chemicals.
Supports Weight Loss*
Our Kamut Wholegrain Superfood Bread contains lots of vitamins nutrients and fiber, keeping you feeling full for hours, as opposed to refined processed breads that get digested too quickly, causing high blood sugar levels and leading to weight gain. 
Shipping: 
To save on Shipping costs Please consider ordering 4 breads or more. Shipping 1 bread costs the same as shipping 2-10 breads. Ordering in bulk saves you big on Shipping costs.
We have Packs of 4 Breads available with many options.
Instructions: Our bread does not contain preservatives. Please consume the bread immediately upon arrival Or slice and freeze. Will last in the freezer for 4-6 months.
*These statements have not been evaluated by the FDA