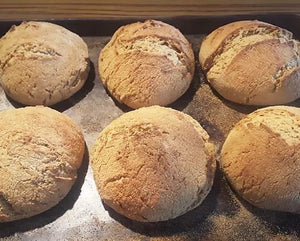 3 Month Kamut Sourdough Bread Delivery Plan
OUR KAMUT SOURDOUGH BREAD IS TRULY A SUPERFOOD. 
Our unique preparation process ensures that our bread is full of vitamins, minerals, probiotics, enzymes and fiber.
Why is our bread a Superfood?
1) Made with Kamut. Kamut is an ancient grain over 3000 years old. So its non-hybridized and Non-GMO, unlike modern wheat.
2) Stone Ground we stone grind fresh every day.
3) Sourdough:  Long 48 fermentation to support probiotic growth which helps repair the gut.
4) Super Pure: No sourdough or yeast starter.
5) 
Made with only 3 ingredients: Kamut flour, water, sea salt.
No bromides or dough risers are added to our flour. 
Our bread is the purest bread in the world. No sourdough starter and no yeast!
So how does it rise? That's our special secret.  You will almost never find a bread in any bakery without yeast, sourdough starter, xantham gums, or cellulose.  We care for our dough like a baby. Under perfect conditions, bread can ferment with just the yeast from the air.  
Our bread is Low in Gluten. Vegan. Sugar Free. Unlike commercial bread that you buy in the supermarkets, we never use bleached or bromated flour. We never use white or refined flour. We only use our wholegrain stone ground flour! 
Health Benefits of Our Bread:
Great for Digestion*

Rich in Probiotics and Enzymes*

Best Source of Natural Fiber*

Rich in Vitamins (Vitamin E and B vitamins) and Minerals*

Helps Support Healthy Blood Sugar Levels and Natural Weight Loss*

Helps rid the body of toxins and waste in the digestive tract*

Reduces Bloat
How Does the 3 Month Plan Work?
Total: 2 Deliveries
Every Delivery Includes 12 loaves of 
48-Hour Kamut Sourdough Breads. That's 24 loaves total. Original Price $14.95 per loaf/New Price $12.75 each. 15% Discount. Shipping included in plan.
Arrives on Thursday/Friday.
Total Bread Cost: $306
Discounted Next Day Air Shipping Cost: $100