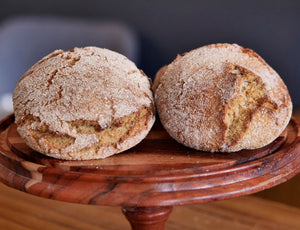 Yeast Free Ancient Grain Bread - Kamut Bread
Organic Kamut Sourdough Bread made with fresh stone ground kamut flour. Only 3 ingredients: kamut flour, water, sea salt. Yeast Free and no sourdough starter.
THIS BREAD IS A SUPERFOOD.  It is the purest bread in the world.  
Our unique preparation process ensures that this bread is full of vitamins, minerals, probiotics, enzymes and fiber. 
Our Organic Kamut Bread is made with stone ground Kamut flour that we stone grind fresh daily for optimal nutritional content.         
Low in Gluten. Vegan. Sugar Free. Unbleached, Unbromated flour. We only use wholegrain flour! 
Kamut is the second oldest grain in the world. It is low in gluten & non GMO. It has anti-inflammatory properties.
Why Our Kamut Bread Is Unique:
Yeast Free
Low in Gluten 
Wholegrain
Ancient grain
Vegan
Sugar-Free
Fresh Stoneground
Benefits of Our Bread:
Supports Healthy Digestion*

Rejuvenates the Gut*

Best Source of Fiber, Real Wheat Germ,  Vitamins and Enzymes*

Supports Healthy Blood Sugar Levels*
*These statements have not been evaluated by the FDA.