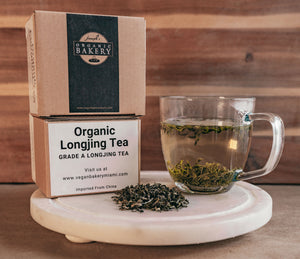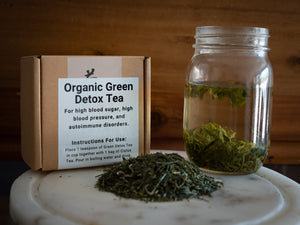 Longjing Tea for Blood Sugar Weight and Detoxification
Longjing tea has been used for centuries in Asian Cultures.
Asian cultures have valued Longjing tea for centuries for its detoxification and anti-inflammatory properties.
Longjing tea is brimming with antioxidants & bioactive compounds that fuel fat burn and anti-aging. The L-theanine in the tea also boosts the body's production of the antioxidant glutathione. Longjing Tea is nature's powerhouse for weight loss. It also promotes the growth of good gut bacteria.
Benefits of our Longjing Tea:
Supports Detoxification*

Aids in Weight Loss & Boosts Metabolism*

Supports Healthy Blood Sugar Levels*

Supports a healthy gut microbiome*
We have sourced the absolute Highest Quality Longjing Dragon Tea Grade A.  It's very important to choose the absolute best green tea grown in heavy metal-free soil.  Otherwise, it loses its health benefits, and actually becomes a source of toxicity.  After sampling and testing hundreds of longjing teas over the past few years, we hand-picked this special green tea. Our longjing tea is grown in a pure environment, and most importantly, it is incredibly potent and easily used by the body.  
Longjing Tea & Detoxification
Cleansing out toxins from the liver is critical to reverse diabetes, lose weight, and for overall health. For those who have been eating toxic GMO foods or unhealthy acidic foods in general, it's often hard to manage blood sugar or achieve healthy weight. That's because when toxins accumulate in the liver and kidneys, they promote inflammation in other bodily organs and cause weight gain. These toxins can also cause inflammation in the pancreas leading to high blood sugar.  For this reason, daily detoxification is necessary to sustain health. Proper green tea can do just this. 
Longjing tea has polyphenols that are great for cleansing the body. Polyphenols enhance the body's natural detoxification ability by supporting the liver and fighting free radicals.

The liver is the body's filtration system. It converts toxins in the body into waste products that your body expels through your urine.
The polyphenols in Longjing tea  protect the liver. It also promotes enzyme activity in the liver that makes the detoxification function more efficient.
Anti-aging Effects of Green Tea
Free radicals are molecules that can cause harm to the body's healthy cells. Longjing tea is brimming with antioxidants that fight free radicals, and keeps us looking young and more importantly feeling young. It contains a powerful antioxidant called epigallocatechin gallate.
The L-theanine in the tea also boosts the body's production of the antioxidant glutathione that can further assist in the free radical fight.
What Are the Benefits of Detoxing with our Grade A Longjing Tea Combined with Cistus Tea?
Longjing tea is a powerful detoxifier on its own, but combined with our Cistus tea, they become a detoxification powerhouse.   
Detoxifying Longjing Green Tea (45 day supply)

Instructions for use:  4-5 cups of tea per day. 
In a cup, Pour boiling water over the green tea leaves- steep for 5 minutes.
For an added boost: Add in our
cistus tea
bag, steep for 2 minutes- drink.